This Corn Slice is a delicious non-sandwich, savoury lunch option for school, work or an easy weeknight meal. This savoury slice is a quick and simple recipe, coming together in just one bowl. It's perfect for meal prep and to make ahead for those busy weekdays. The slice is light and creamy but filling and I love the sweet flavour of the corn against the salty bacon.
If you are anything like me you will always be on the look out for lunchbox mains that aren't sandwiches. And this savoury Corn and Bacon Slice is a winner! It's a protein packed lunchbox addition that is so quick and simple to make. Not to mention it's nut free too! And this slice is substantial enough to be served for dinner for a quick crowd-pleaser.
And this Corn and Bacon Slice tastes great! The sweetness of the corn is perfect against the cheesy bacon-y (totally a word) goodness. This recipe is oil free and I use ricotta to add moisture and a beautiful soft and creamy texture to this Corn Slice.
I love to eat mine with a good relish or pickle sauce and a nice crisp green or garden salad.
Ingredients and Substitutions
This one bowl Corn and Bacon Slice recipe uses readily available ingredients and a number of these can be substituted. The quantity information is in the recipe card.
Corn – I like to cut kernels from the cob for this slice recipe as they are the sweetest and most tasty that way (in my opinion). You don't need to boil the corn cobs first. You could also use tinned corn kernels or frozen corn kernels.
Bacon – I generally will use short cut bacon in this recipe and I do not cook it first. You can omit the bacon if you would like this to be a vegetarian slice or replace with a grated zucchini.
Creamed Corn – creamed corn is a common tinned corn option in Australia. You can make this at home from scratch but I would recommend to use more kernels which would be a much easier option if canned cream corn is not readily available.
Ricotta – this replaces the oil in this recipe and adds a beautiful creamy texture. The ricotta I use is smooth and quite loose, more similar to cottage cheese in consistency. If you do not have ricotta you could use sour cream, cottage cheese, cream or oil. If using cream or oil as a substitute reduce the amount to 1/2 a cup.
Eggs – packed with protein these are a base ingredient in this recipe. I use extra large free range eggs. If using large eggs you may wish to add in another egg or two.
Tasty Cheese – is a slightly aged cheddar cheese. You can substitute with cheddar cheese.
Onion – adds flavour to the Corn Slice recipe. You do not need to cook the onion first. You also could omit (but I would recommend leaving it in) or replace the onion with spring onions.
Garlic – adds more delicious flavour to this recipe. I crush the garlic in a garlic crusher but you could also chop finely too. You may also wish to omit…but why would you 😉
Parsley – elevates the flavour of this Corn and Bacon Slice. You can omit if you don't have any. I have also used fresh dill (dill weed) as the primary herb which works well with the corn, but I would reduce this to around a teaspoon of finely diced dill.
Salt and Pepper – seasons the recipe and bring out the flavours of the ingredients.
Self Raising Plain Flour – if you do not have self raising flour you can use plain flour and add in baking powder. To make self raising flour, mix two teaspoons of baking powder to each cup of plain flour. You could also use a wholemeal self raising flour.
How to make the Corn and Bacon Slice
This is such as easy recipe. While you are preheating your oven, grease a large ovenproof baking dish. In a large bowl add in all your ingredients except the flour then stir together thoroughly.
Once combined, add the self raising flour and mix together well. Spoon the mixture into your prepared dish. Next, bake in the oven for around 35 minutes or until the Corn Slice is cooked through, golden brown on top and the sides of the slice are pulling away from the edges of the baking dish.
Storing the Corn Slice
This savoury slice recipe can be made in advance and stored in the fridge for up to five days in an airtight container. You can also freeze this slice too. For best results use plastic wrap to protect the slice from freezer burn. And if you want a plastic free option you can tightly wrap with baking paper.
To freeze, cool the slice completely after cooking. Then cut the Corn and Bacon Slice into portions. Wrap each portion in plastic wrap or baking paper and place in an airtight container and store in the freezer for two to three months.
Reheating the Corn Slice
Not only is this Corn Slice is super quick to prepare, it also reheats really well. So it's perfect for meal prepping. Once you have cooked the Slice, leave the slice in the dish without cutting. Then, cool the cooked slice before covering with tin (aluminium) foil and store in the fridge.
When you are ready to eat it, preheat your oven to 170c and bake covered with foil for around 20 minutes or until cooked through.
To reheat leftovers, cover the slice with a dampened paper towel and reheat in the microwave for around 1.5 minutes or until heated through and steaming hot. The time may vary depending on your microwave.
If you love my Corn Slice recipe you'll love these recipes too!
Do you love this recipe? Remember to rate it ★★★★★
Print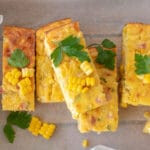 Corn and Bacon Slice
Author:

Prep Time:

5

Cook Time:

35

Total Time:

40 minutes

Yield:

8

slices

1

x

Category:

Mains

Method:

Baking

Cuisine:

Western
---
Description
This light and tasty Corn Slice is fantastic non-sandwich savoury lunch option for school, work or easy weeknight meal. This savoury slice is a quick and simple recipe, coming together in just one bowl. It's perfect for meal prep to make ahead for those busy weekdays.
---
8

large eggs

1 cup

of ricotta

1 cup

tasty cheese

250g

corn kernels (kernels from

2

corn cobs)

175g

bacon finely diced

1

brown onion finely diced

1/2 cup

creamed corn

1 tbsp

parsley chopped finely

1

clove garlic crushed
salt and pepper

1 cup

self raising flour
---
Instructions
Pre-heat your oven to 180c and grease and a large rectangular (around 30cm x 20cm) ovenproof dish.
In a large bowl combine all of the ingredients except the flour and mix well to combine.
Next add in the self raising flour and stir until combined.
Then spoon the mixture into your prepared dish.
Cook for around 30-35 minutes or until lightly golden and set.
Cool slightly then serve.
---
Notes
See the section above 'ingredients and substitutions' for substitution options.
Keywords: Corn Slice, Corn and Bacon Slice, Savoury Slice, Savoury Corn Slice
I hope you love this delicious Corn Slice recipe. Remember if you love the recipe please rate it, it really helps with the Google Gods! And don't forget to share your pictures with me on instagram or facebook I love to see you all enjoying my recipes.
Bernadette x