This gluten, dairy and nut free Chocolate Chia Pudding is a delicious protein packed breakfast, snack, dessert or even lunchbox addition. It is truly a simple recipe. It uses minimal ingredients to create a flavourful chia seed pudding that comes together quickly and irresistibly.
Have you tried chia seed pudding before? It's a fantastic option way to get extra nutrients into breakfast, snacks, dessert or even a sweet, but wholesome, treat for school lunches. And this healthier protein chia pudding is a winner!
Packed with fibre, plant-based protein and a great source of essential minerals, protein chia puddings are one of those fun lunch box additions that packs a nutritional punch. And my kids actually eat it 😅I will be honest though – I did have my doubts about them trying it. But my kids truly surprised me with loving this Chocolate Chia Seed Pudding recipe.
What does Chia Pudding taste like?
This Chocolate Chia Pudding tastes sweet and creamy and, well, chocolate-y! Chia Seeds are highly absorbable, and when soaked they will soften and become gelatinous. The pudding has a texture a little like tapioca. It is thick but should be easy to stir and spoon delicious mouthfuls.
You can add more or less milk into the pudding to get a consistency that you love. I prefer mine a touch looser than this recipe, so I will add in a little more milk when I am about to eat it but this is the way the kids like it best.
Some people may not enjoy this texture so you can substitute some of the chia seeds out for rolled oats or top with fruit or nuts. You can also blend the chia seed pudding for an even smoother result, but you will need to double the recipe so it blends properly.
What milk works best with Chia Seed Puddings?
This chocolate chia pudding recipe is pretty adaptable to whatever milk you have on hand – whether this is dairy or non dairy milk. Different milks will add different flavours to the pudding. Almond milk is a popular choice, but if you are sending to school make sure you are aware of any allergy restrictions.
I use coconut milk and I find the best taste comes from a quality coconut milk from a carton as opposed to canned. This is because some canned coconut milks can taste a little metallic in chia pudding. I use an unsweetened coconut milk, so if yours is already sweetened you may prefer to add less maple syrup when making your chia pudding.
Why is Chia Pudding good for you?
Chia seeds are nutrient powerhouses, boasting a fabulous serving of fibre, protein, healthy fats, calcium and magnesium so this is why Chia Seed Puddings have a great reputation as being a healthier option.
And given this, they are great in the lunchbox as a sweet treat – where you control the added sugar. You can definitely reduce the amount of maple syrup in this recipe so you may prefer to add in the syrup one teaspoon at a time until you get the balance you like.
Chia puddings are a great allergy friendly option as they are gluten free, dairy free, nut free and they're also perfect for kids with a vegan diet as they are adding omega-3s and protein.
Ingredients and Substitutions
To make this delicious, creamy Chocolate Chia Seed Pudding you will need seven simple ingredients (and two are optional). You can find quantity amounts in the recipe card below.
Chia Seeds – These are the seeds of the herb Salvia hispanica, which is related to the mint plant. A fantastic little seed that punches well above it's weight in the nutrition stake. You can get Chia Seeds from most good supermarkets, and a little goes a long way, so they are quite a cheap buy in that respect.
Cacao – gives this chocolate chia pudding its chocolate flavour. Cacao contains fibre, potassium and magnesium. You can substitute with cocoa.
Maple Syrup – adds sweetness to the recipe. You can reduce, add a little more or leave out completely depending on your taste preferences. If you are using a sweetened coconut milk then you will likely not need as much maple syrup. I use a natural maple syrup as opposed to a flavoured maple syrup.
Vanilla Extract – brings out the sweetness of the maple syrup so you don't need to add as much sugar. You could use vanilla bean paste or just omit but you may need to add a little more syrup. I have made chia pudding without the vanilla extract but I felt the taste was a little bland.
Cinnamon – adds a lightly warm sweetness. This is an optional ingredient. You can omit this if you do not have any on hand.
Salt – a very small amount enhances sweet flavours. This is optional and you may wish to omit if making for the kids.
Coconut Milk – you can use any milk alternative or dairy milk. I use an unsweetened coconut milk from a carton – not a can – as I find the canned coconut milk can have a metallic taste which is quite prominent in the pudding. If you do use a canned coconut milk or cream, note that this will change the texture and thickness of the chia seed pudding so you may need to experiment a bit with the quantities of the chia seeds to get the consistency you like.
How do you make Chocolate Chia Seed Pudding?
Chia puddings are really easy to make. The hardest part is waiting for them to set in the fridge. But with a very small amount preparation ahead of time you can wake up to a delicious chocolate pudding for breakfast!
To make the chia pudding in a jar or jug add in all the ingredients except for the coconut milk and thoroughly stir together to form a thick paste. You need to make sure that all the cacao has been absorbed and no dry lumps remain.
Then add half the coconut milk and mix again until well combined. Then add in the remainder of the coconut milk and stir again. Let sit for around 1-2 minutes and then stir again to ensure there are no big clumps of chia seeds.
Cover and leave to set in the fridge for a minimum two hours but ideally overnight. If sending in a lunchbox make sure your lunchbox is leak proof or put in a separate container.
I have these little silicone bento cups that I love and fit well in my lunchbox so if I'm sending the chia seed pudding to school I set the pudding directly in these.
Storage Instructions
Chia pudding is best served cold straight from the fridge. You can store Chia Pudding in the fridge covered for around 5 days. You can also freeze for several weeks, though I have not tried and tested this.
Topping Ideas
While you can enjoy the chia pudding on its own, I find I need some other additions to get some extra bite and interest. The topping ideas are really up to your imagination, but are some options that go really well with this chocolate chia pudding:
fresh berries with shaved dark chocolate a light dusting of cinnamon
sliced banana, peanut butter and shaved dark chocolate
whipped cream (or greek yogurt) and berries
greek yogurt, banana and roasted nuts (maybe even some more shaved dark chocolate?)
stir in a tablespoon of orange juice and a teaspoon of orange zest then sprinkle with a little more zest and shaved chocolate
Loving this recipe?
You will also love these delicious recipes too!
Do you love this recipe? Remember to rate it ★★★★★
Print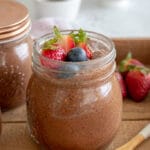 Chocolate Chia Pudding
Author:

Prep Time:

5 minutes

Total Time:

8 hours 5 minutes

Yield:

1 cup

of chia pudding

1

x

Category:

Dessert

Method:

Refrigeration

Cuisine:

Western

Diet:

Gluten Free
---
Description
Chia Pudding is so simple to make. It uses minimal ingredients to create a flavourful chia seed pudding that comes together so quickly into an irresistible pudding. And this gluten, dairy and nut free Chocolate Chia Pudding is protein packed. So it's the perfect breakfast, snack, lunchbox option or dessert to prep ahead.
---
3 tablespoons

chia seeds

1 tablespoon

cacao 

1 tablespoon

maple syrup (you can reduce this amount if preferred) 

1 teaspoon

vanilla extract

1/4 teaspoon

cinnamon (optional) 
pinch of salt (optional) 

1 cup

coconut milk (see note) 
---
Instructions
In a 250ml capacity jar (or container) add in all the ingredients except the coconut milk and mix well with a spoon until the mixture is combined and forms a thick paste. Take care to ensure the cacao has been completely combined and no dry lumps remain.
Pour in half the coconut milk and mix well until all well combined then pour in the remainder of the coconut milk and stir again to combine. 
Let the mixture sit for 2 minutes then stir again thoroughly to remove any lumps that may have formed. 
Place the lid on the jar and refrigerate overnight for for a minimum of two hours. 
When ready to eat check the consistency and add a little more coconut milk if you prefer a looser mixture.
Add any preferred toppings such as berries or bananas and enjoy cold from the fridge.  
---
Notes
I use an unsweetened coconut milk from a carton. Coconut milk and cream from cans can taste a little metallic in this recipe.
I tested this recipe with a number of different brands of coconut milk and the thickness of the coconut milk that you use will effect the texture of the pudding. You can adjust the pudding  by adding more milk if you prefer a looser pudding. 
Keywords: Chia Pudding, Protein Chia Pudding, Chocolate Chia Pudding, Chia Seed Pudding, Chocolate Chia Seed Pudding.
I hope you (and your kids) love my chia seed pudding recipe. Remember if you make my recipes, I would love for you to share your pics with me. You can find me hanging out on Instagram or Facebook so come join me there!
Happy lunching,
Bernadette x