Is a bento box really the best lunchbox choice for your kids? What are the benefits of bentos and is the cost justified? Your questions answered and more. This blog post contains affiliate links and codes. If you decide to purchase using these I will earn a small amount of commission at no additional cost to you.
Ah bento lunchboxes. My not so secret obsession. I don't want to admit to how many I have (and love) but it's all in the interest of road testing lunchboxes so I can share my experience with you. At least that is what I tell my husband.
The market is saturated with bentos. And it can be really confusing to know what's the best bento lunchbox for your kids. What size should you get? What brands are the best? Not to mention, they're not inexpensive so you want to make sure you make the right choice.
Lunchboxes have come a long way since I went to school. When I did have them they often broke super quickly and more often than not I just used to take my lunch in empty bread bags. How times have changed.
The Benefits of Bento Lunchboxes for Kids
I love bento lunchboxes for kids (and adults too for that matter) for three main reasons:
Bento lunchboxes enable nude food. You can save money and the environment as you do not need to use plastic wrap or packaging.
The bento box design means you can offer a variety of foods all separated perfectly by the lunchbox compartments. Often bento lunchboxes will also be leak proof so you can serve wet foods alongside dry foods.
Good quality bento lunchboxes are more durable so you should not need to replace the lunchbox as frequently.
What About the Cost of the Bento Lunchbox?
While we all have our own budgets to manage, I wanted to invest in a good quality bento lunchbox for my kids as invariably the cheaper ones would break and I did not want to be replacing cheaper ones more often. The old adage if you pay peanuts expect to be buying monkeys springs to mind. I also reasoned (quite rightly) that I was saving money (not to mention the environment) on plastic wrapping.
You can expect to pay around $40 for a good quality bento but this price can increase substantially if you are looking at stainless steel options. At an average of $10 a term I don't think this is a huge cost.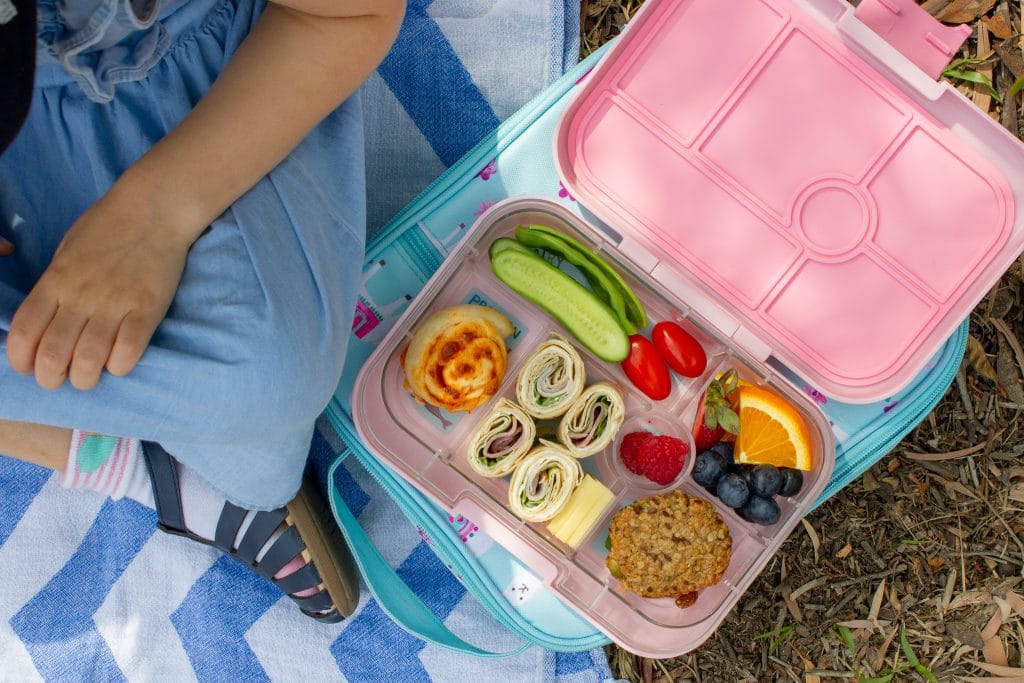 What Do I Need to Consider When Choosing a Lunchbox?
I think there are few things to consider when selecting a bento lunchbox for your kids.
Firstly, think about your child's appetite. Do they have hearty appetites? Or do they eat like a bird? If your child doesn't seem to eat a lot choosing a lunchbox that is on the smaller size may help as it won't overwhelm them and will reduce waste.
Next, check in with your kids's school (or read through the parent handbook) to see how snacks and lunch should be served. A lot of schools require you to send lunch and snacks in different lunchboxes or containers. If this is the case then a smaller size bento lunchbox coupled with a snack box may be sufficient.
Your choice in bento lunchbox should also be guided but what sorts of food your children enjoy. If your kids love yogurt and you want to reduce plastic waste then choosing a bento lunchbox that can hold wet and dry foods may be for you.
Then consider the portion sizes within a bento. If you want to serve a full sized sandwich then look for a bento that has a large compartment for this. You can always make a bento lunchbox with larger compartments smaller by using silicone cupcake moulds.
What Are the Best Bento Lunchboxes for Kids?
I am a pretty firm believer in that there are no best lunchboxes – only the best that works for you and your kids. In this spirit I am going to share information about the lunchboxes I use and then you can use this information to compare and work out what is best for you.
Yumbox Original
The Yumbox Original is a great smaller size bento lunchbox for younger kids. This lunchbox has an approximate 2.5 cup capacity that is recommended from toddler age to around 8 years of age. This size lunchbox still works well for Mr 8 as we are required to pack a separate snack box.
The lunchbox itself is easy to open and is leakproof* for wet foods (not liquid foods). It has 6 compartments so it's the perfect lunchbox for packing a variety of foods.
The tray is removable for easy cleaning and is dishwasher safe (top rack only) however I always hand wash mine to get the most life out of my lunchboxes.
The Yumbox Original RRP is $39.95AUD and comes in a range of colours. If you wish to purchase this lunchbox in Australia you can through The Bento Buzz and use my code GOODIE for a 10% discount.
Yumbox Panino
The Yumbox Panino is a four compartment version of the Yumbox Original with a slightly bigger capacity of around 3 cups.
Again, this bento lunchbox is recommended for younger kids up to the age of eight. If your kids love full sized sandwiches then this lunchbox is a great option.
The Panino RRPs at $39.95AUD. You can purchase the Yumbox Panino from The Bento Buzz here in Australia, for a 10% discount you can use my code GOODIE. Please note that the Panino and Original trays are not interchangeable.
Little Lunch Box Co Bento Five
The Little Lunch Box Co Bento Five is often my go to for Mr 8. It's a generous capacity – almost four cups – and the five compartment configuration is perfect for offering a variety of foods. I often use this lunchbox for my lunch given its size.
This bento lunchbox for kids is a one piece lunchbox that is easy to clean and is top rack dishwasher safe, though I hand wash mine for longevity.
This lunch box is quite deep and it is also leakproof* so suitable to pack wet (not liquid) foods. These lunchboxes can also be purchased with specially designed silicone bento cups for even more configurations.
The Bento Five retails for $42.95AUD. You can purchase this bento lunchbox by clicking here and use my code GOODIE for a 10% discount.
Little Lunch Box Co Bento Three
This bento lunchbox for kids has three compartments and is the same generous almost four cup capacity as the Bento Five.
This lunchbox is perfect for serving full sized sandwiches, croissants or bagels. This lunchbox is also suitable for wet (not liquid) foods as it is leakproof.
It is all in one piece and easy to clean. The latch is simple enough for little fingers to open and close.
This bento lunchbox also retails for $42.95AUD and can be purchased here. You can use my code GOODIE for a 10% discount.
Seed and Sprout Crunch Box
This stylish stain resistant stainless steel bento lunch box is a generous capacity with four compartments.
Though this lunchbox is not leak proof you can purchase custom leak proof pots to send wet foods along side dry foods for a delicious lunch.
This lunchbox is perfect for older children and adults alike and is a sturdy streamlined design. The RRP for this bento lunch box with the leak proof pots is $99.00AUD and can be purchased from Seed & Sprout however they are only available on pre-order currently. The Bento Buzz also stocks these however they are not currently in stock at the time of writing.
Love Mae Lunch Box
These whimsically designed four compartment bento lunchbox for kids offer a huge six cup capacity that hold a full sized sandwich…and more! They can be purchased with custom made insulated lunch bags to keep those lunches cool.
Two leakproof (wet foods not liquid) containers are included and this is an easy to clean and dishwasher safe lunch box.
This bento lunchbox RRPs for $34.95AUD and can be purchased from Love Mae. You can also purchase these from The Bento Buzz (the same discount code GOODIE applies)
In the interests of disclosure I do have another lunchbox to add to this – the Omiebox. But I am currently away and have not had the chance to take a picture of this one so will update this post as soon as I get around to it.
I hope this blog post all about the best bento lunchbox for your kids has been helpful. If you have a child starting school or kindergarten you may be interested in this blog post 'Everything You Need to Know about Kindergarten Lunchboxes'. You may also be interested in this School Lunch Guide.
Please feel free to reach out if you have any questions. You can find me on Instagram or Facebook or shoot me an email [email protected].
Happy lunching,
Bernadette x